Activism Inside the 2007 Altria Shareholders Meeting
April 26, 2007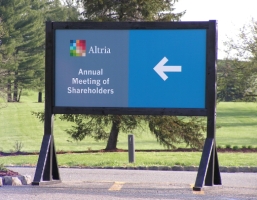 While dozens of youth demonstrated outside the meeting, inside the meeting, 20 youth and adult advocates continued to convey their message, first during statements and comments made and then by symbolically "quarantining" the company near the end of the meeting with props such as yellow "crime scene" tape, doctor's masks, biohazard suits, signs that read "Stop the Toxic Pandemic" and a banner "Quarantined for Global Health." Click on the links below for more information.
1) Statements made during general Q & A (and CEO's responses)
Dina Kania, National Commission for Child Protection, Indonesia
Anna White, Essential Action, DC
David Trinnes, stand, OH
2) Comments on Shareholder Proposal # 2: Informing Children of Their Rights if Forced to Incur Secondhand Smoke
Stephen Ross, Dover Youth to Youth, NH
Merritt McLaughlin, Dover Youth to Youth, NH
3) Comments on Shareholder Proposal # 3: Stop All Company-Sponsored "Campaigns" Allegedly Oriented to Prevent Youth From Smoking

Nicole Sutton, Cancer Research Center (University of Hawaii), HI
David Trinnes, stand, OH
4) Comments on Shareholder Proposal # 4: Get Out of Tradition Tobacco Business by 2010
Carol McGruder, Communities Under Siege/Ursa Institute, CA
5) "Quarantine Philip Morris" demonstration at meeting's conclusion
Listen to a webcast of the meeting

Further information about the 2007 Altria meeting, including annual report, proxy statements, and a transcript of CEO Louis Camilleri's remarks, is available on Altria's website.
The transcript of the statements above were provided by those who made statements and/or excerpted from a full transcript of the meeting, which is available on Virginia GASP's website.