Tani Tatuwen Piyabanna
(Flying with one Wing)
A film which promotes smoking among women.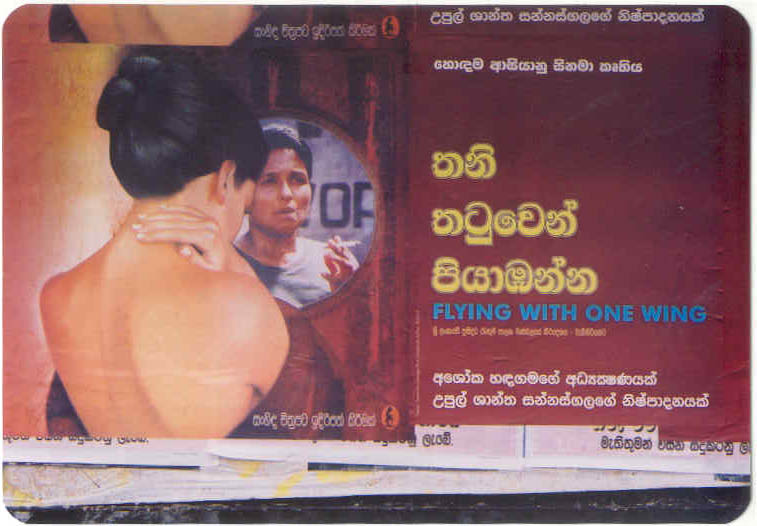 Report by Peiris Manjari, Journalist
Sri Lanka
May 2003
Tani Tatuwen Piyabanna (Flying with one Wing)
A student action group of the Colombo University's medical faculty came out against the award winning film Thani Thatuven Piyambana (flying with one wing) asking whether it had a promotional agenda for the tobacco industry behind the screen.
This film is based on a woman who tries to live like a man. This "man" has to struggle against various social norms, definitions and socio-cultural expectations of manhood and masculinity. Running parallel to the effort of becoming a man, is a woman's struggle against the social injustice, i.e. women's freedom. Since efforts to define masculinity and women's freedom are two key themes in the film, any claims that are made regarding masculinity, manhood and women's freedom are invariably important.
"The film is full of scenes where smoking is glorified as a symbol of masculinity. In several occasions cigarettes are been pushed between the lips of the characters in a very unnatural and artificial manner. It is interesting to notice that all characters are smoking a particular brand of cigarettes (Gold Leaf) from the beginning to the end of the film," said a statement issued by the Chairman of the medical faculty's Students Involved in Rational Health Action (SIRA).
"We would like to discuss two scenes from the film. In the first one "the man" goes to pick up a girl who returns home late night. When "he" sees the girl, "he" throws away the cigarette. Then the girl asks "why did you throw it away? You are so nice when you are smoking.". In the next scene, at the climax of the film, the wife of the "man" clearly describes what a woman in general expects from a man. Amongst her items in the list, with so much stress and emphasis, she says that smoking in front of a woman is what a woman expects from a man." the action group said.
There is a character portraying as a doctor. This doctor offers cigarettes to all his patients. While he examines patients always he smokes.
This film won the award of Best Asian Film 2002 at the 15th Tokyo International Film Festival. Also this film is an entry at this year's Festival due film Asiatique de Deauville (France) and Paris and Raindance Film Festival – London in March and Jeonju IFF (Korea) in April, Syndney Film Festival (Australia) in June and Calgary IFF (Germany) in October.
This film was regarded as the most revolutionary South Asian film when it was screened at the London International Film Festival last year. It also represented Lanka at a number of foreign festivals including San Sebestian International Film Festival of Rotterdam (Netherlands) and Singapore International Film festival among many other festivals.
###
We cannot directly say that Gold Leaf paid for it as a Product Placement as there is no proof.
Many counter activities have been done by ADIC and many other prevention organizations such as writing to the producer and the director of the film. At the inauguration ceremony of this film youths had hooted at them.
The articles which were in print media regarding this film were more pro towards the film.
###
No product placement - CTC
The Ceylon Tobacco Company, the country's monopoly tax paid cigarette manufacturer last week rejected allegations by unidentified groups that the company had sponsored the controversial Sinhala film Thani Thatuven Piyabanna which showed women smoking cigarettes.
The CEO, CTC, Paul Hiltermann's statement to the press regarding the film Flying with one Wing; " CTC in its history has never sponsored any films, or doesn't hope to do so. We are always mindful of the way we do business and strictly adhere to the regulations of the Voluntary Code of Conduct."
"The recent movie has nothing to do with Ceylon Tobacco. If the producer wishes to portray a character using tobacco products, we do not have the authority to stop him frim doing so."
"The enhanced voluntary code demonstrates the company's commitment to ensuring that communication about its products is undertaken responsibility and within the laws of the country. We will continue to ensure that such communications are directed towards informed adult smokers only. We have and will continue to assert our right to market tobacco products to adult smokers. This includes communicating with adult smokers with their consent."
It is also said that this code ensures that "reasonable measures are taken to ensure that the promotion of tobacco products is directed at adults who have made an informed decision to smoke."
The enhanced voluntary code be adhered to by all employees of CTC and CTC encourages all others who are associated with the manufacture, sale, distribution or marketing of tobacco products to embrace the principles of the code.
The enhanced voluntary code will cover advertising content, media usage, promotion and events, sponsorships, packaging, sales and distribution, minors' access and minimum age restrictions, face to face commnication practice for marketing staff and compliance. The enhanced Voluntary Code of Conduct has been made available to the public on request and any complaints about the observance of this code should be sent to the marketing director fo CTC.